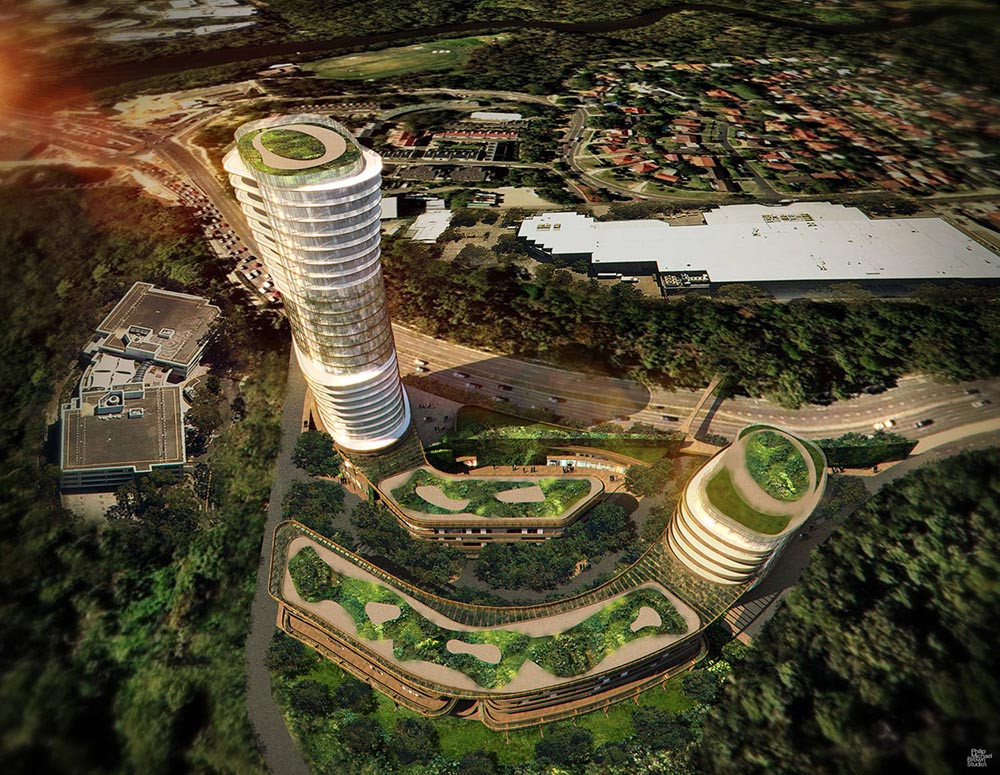 Conybeare Morrison International Architects won the design competition for the Lane Cove development with a vision of the residential towers as an extension of the natural landscape, inspired by the exposed sandstone and native vegetation from the nearby Lane Cove National Park. – The Australian, 5 Dec 2013.
Conybeare Morrison has won judges over with a design for 150 Epping Road, Lane Cove. Inspired by the natural surrounds, the new development will offer residents and visitors an experience unique to Sydney – to live within reach of the city but with immediate access to Lane Cove bushland.
In their response to the three designs in competition, the judges said of the Conybeare Morrison submission… 'This scheme stood out by successfully integrating built form and open space to create a development that capitalises on the unique attributes of this steep bushland site. It features a well resolved sequence of landscaped open spaces and an architectural language that integrates ESD.'
ABOUT THE DESIGN
Aman Krishan, a key member of Conybeare Morrison's design team explains, 'the river valley features portions of exposed sandstone and a rich canopy of native vegetation. These two elements provide the basis for the inspiration of 150 Epping Road. An intimacy has been achieved for future residents with thoughtful site planning and the creation of a 'neighbourhood' street and village square within the project. The towers, located asymmetrically to minimise cross viewing, create a varied silhouette against the sky, reminiscent of the tree canopies below. Key design features provide both architectural and environmental benefits, serving residents and those able to see the towers from the surrounding community.'
The Meriton development will offer a rich variety of unit types for future occupants including high rise apartments, low podium apartments and ground level terraces with individual gardens.
With the scheme approved and pre-DA underway, construction is due to start in March.
Stay tuned for the release of final design!