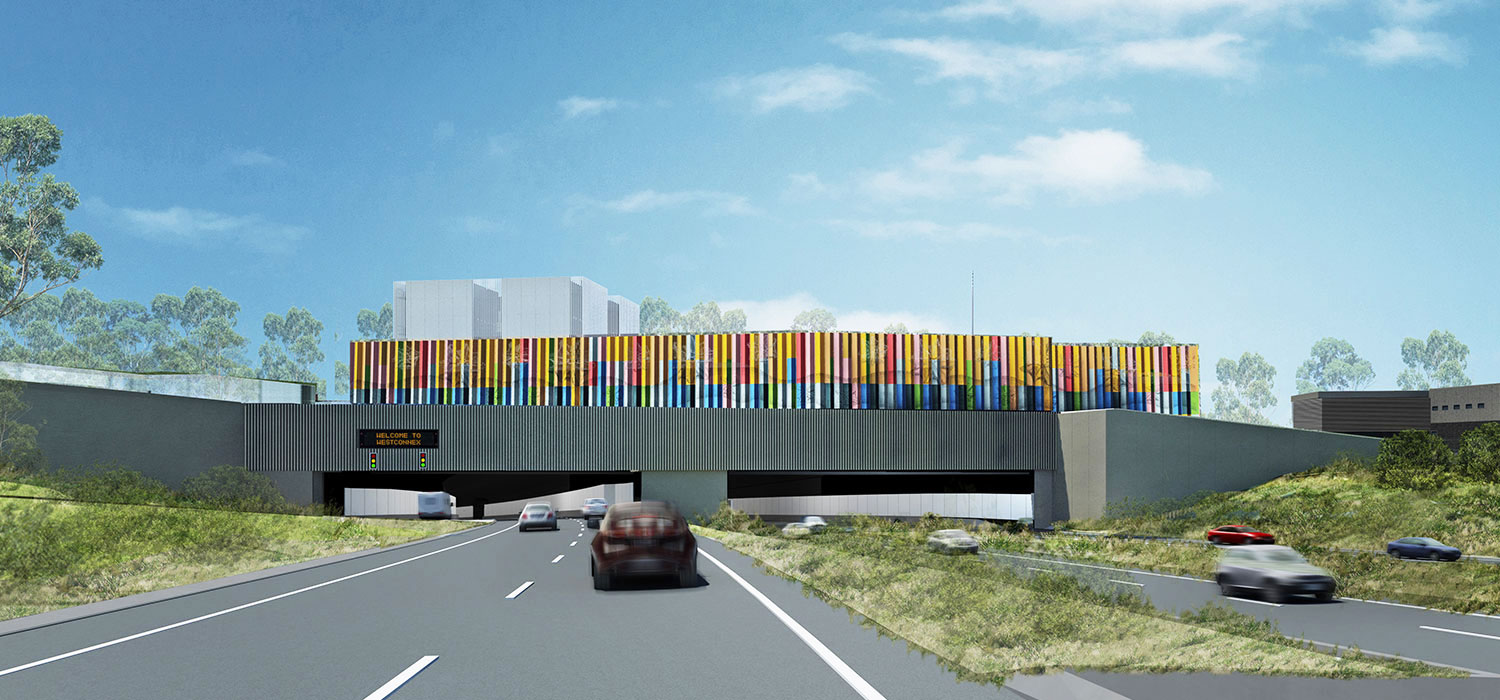 Campbell Road ventilation facility – view looking north. Artist's impression. Landscape shown at full maturity and is indicative only. Street lighting and other road furniture not shown.
The WestConnex M4-M5 Link Tunnels is a 7.5 kilometre twin tunnel with supporting facilities. The new ventilation facility at St Peters near Sydney Airport provides a welcoming statement to visitors from around the world.
CM+ teamed with Lendlease Samsung Bouygues Joint Venture and TfNSW to develop this piece of infrastructure. As placemaking considerations were key drivers of design outcomes, the project provided an opportunity to fully integrate art into the design, transforming the experience of movement and place.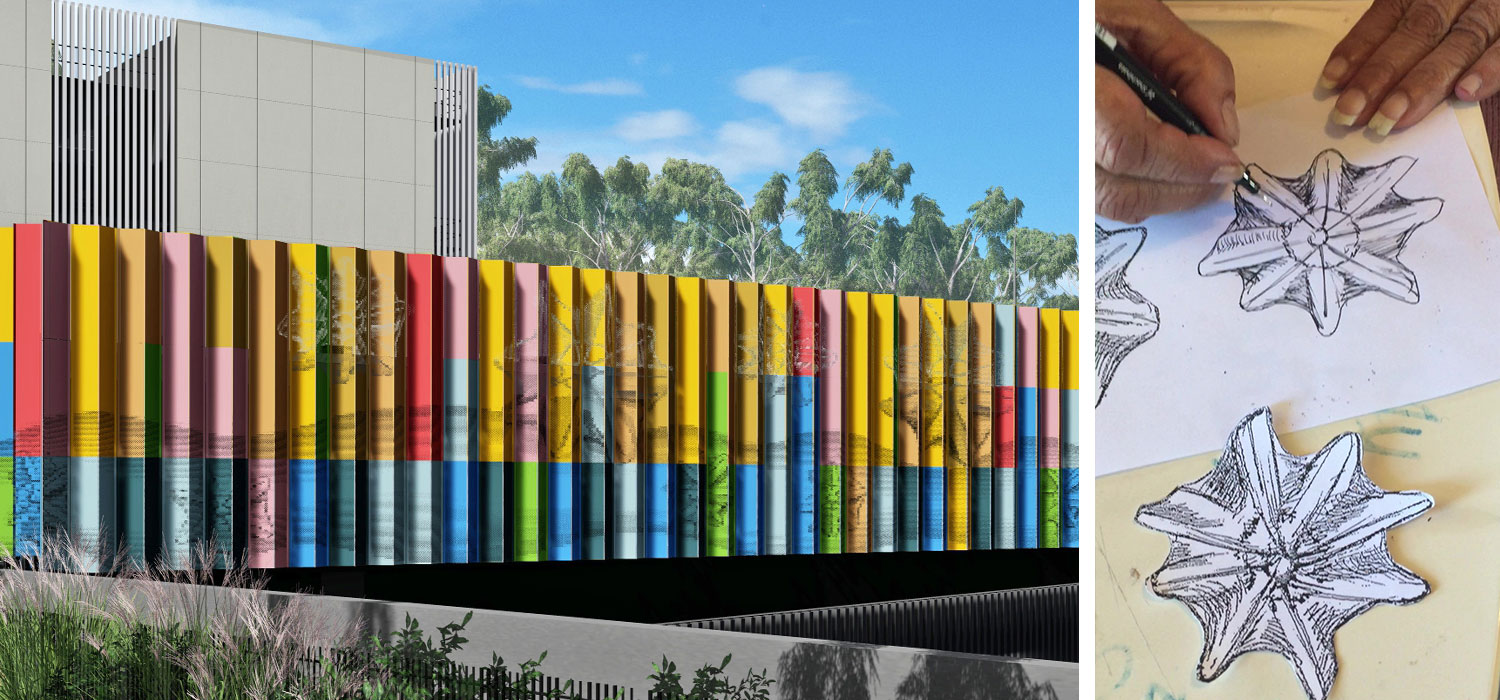 Left – The folded aluminium skin provides a three dimensional 'çanvas' and allows a kinetic experience with differing views and colours unfolding as one moves around the building. Right – Series of original hand sketches by artist.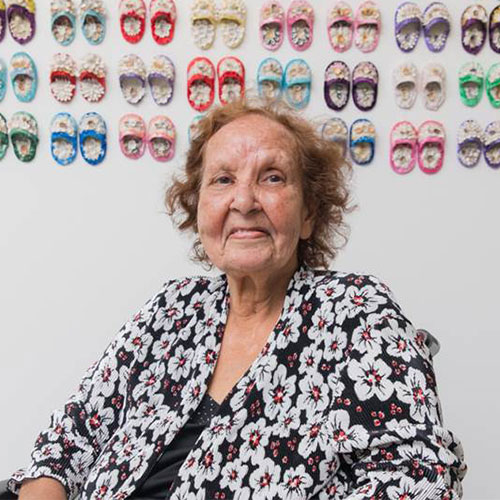 Esme Tinbery (©JacquieManning)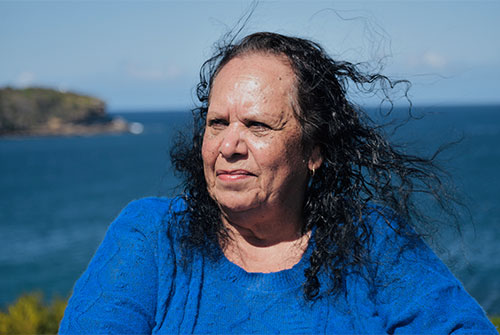 Marilyn Russell (©DennisGolding)
Working with Cultural Capital and respected Indigenous artists Esme Timbery and Marilyn Russell, a powerful statement of continuity and connection with the site was developed as the façade treatment for the ventilation building at St Peters.
The design team was privileged to be invited to the artists' home in La Perouse over the course of much of 2019 to translate their vision into buildable components. An iterative process was employed to work closely with the artists, refine their ideas and, through models, sketches and computer renderings, arrive at a workable outcome that could be translated into architectural working drawings for contractors to implement. The artists will have the opportunity to review and guide the further development of their artwork through mock-ups and prototype assemblies on site during construction.
The legacy of this unprecedented work of art, scaled to the city, as a 'connection to country' and welcome to Australia will strengthen the legibility of the project and deliver strong placemaking outcomes for both road users and the community.

Original artist sketch over Campbell Road ventilation facility northern elevation.
Motorists arriving from Sydney Airport will pass under the artwork before entering the tunnel travelling to the Sydney CBD, Sydney Opera House, Sydney Harbour Bridge and Sydney Harbour. It provides a new reference point and preamble to these iconic Sydney locations.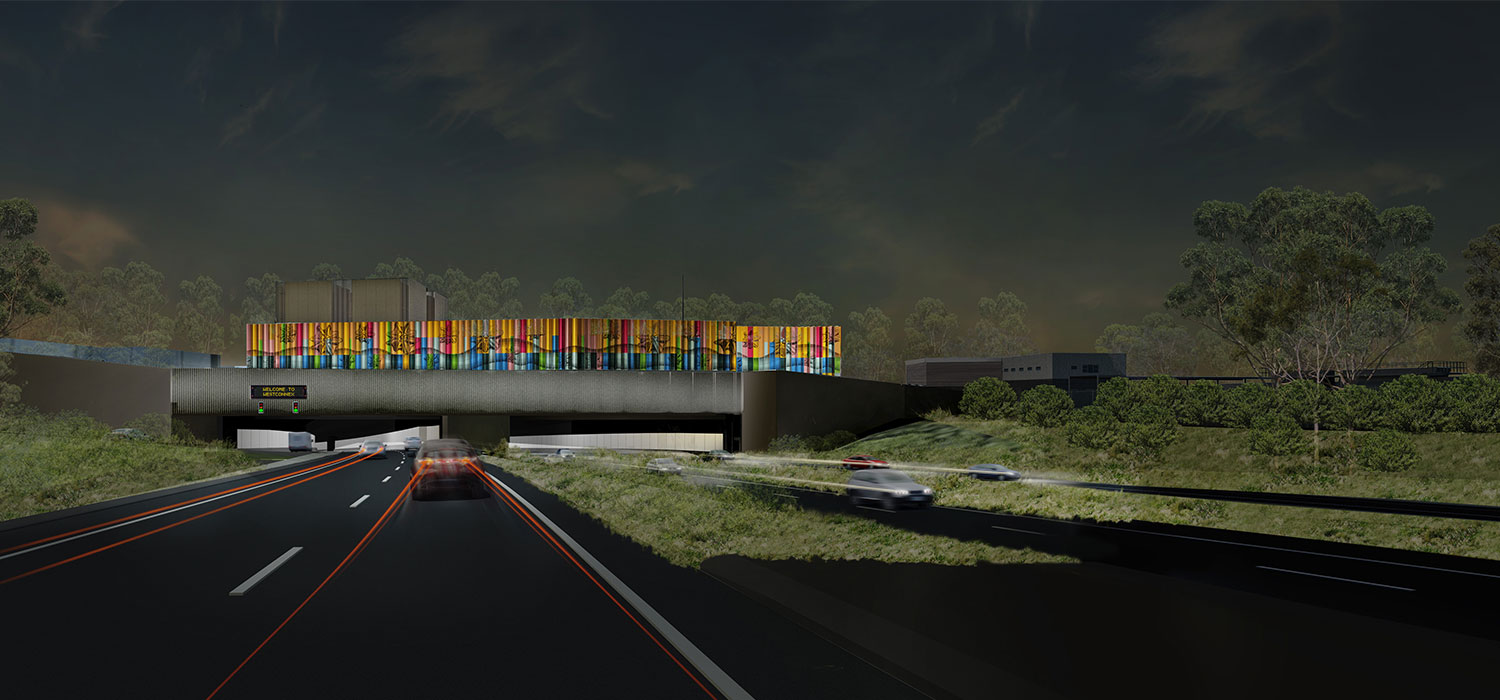 Campbell Road ventilation facility.
The shell seeker: Esme Timbery's journey from Paddy's Markets to the Biennale, Sydney Morning Herald – By Melanie Kembrey – January 17, 2018
Aboriginal women in La Perouse were known to be earning income by making and selling shell baskets in Sydney in the 1800s, although shells had likely been used for a variety of purposes, including ornamentation, before colonisation.

– Dr Maria Nugent, researcher at the Australian National University.