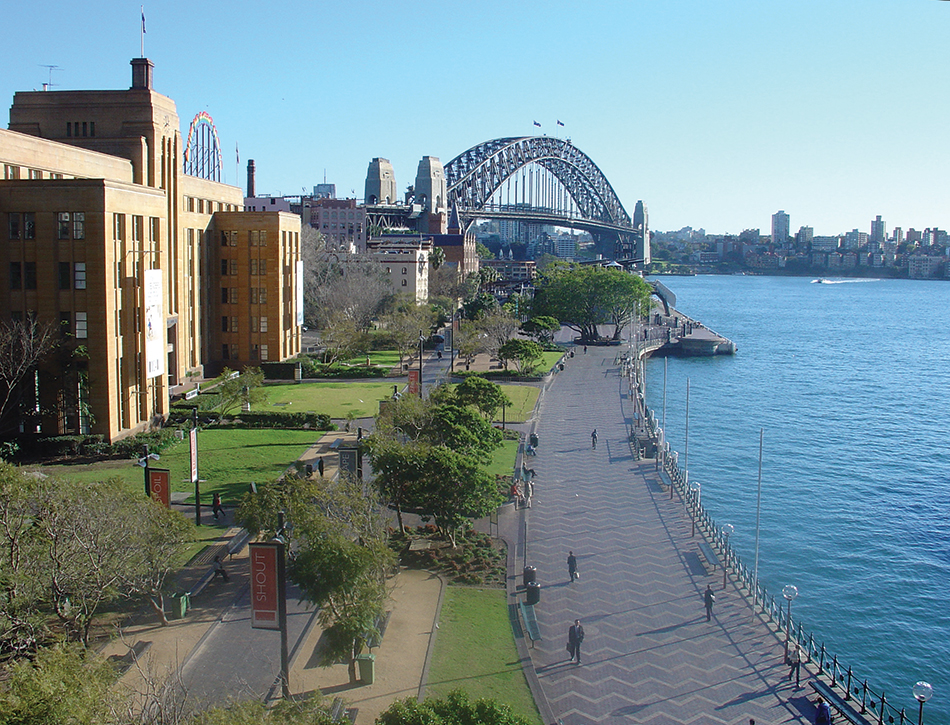 Conybeare Morrison International was founded in 1980 by Darrel Conybeare and Bill Morrison. After several years working together at the firm Planning Workshop, the pair recognised extensive common interests and set out to create a collaborative multi-disciplinary practice in pursuit of design excellence in architecture and urban design. At a time when it was still necessary to explain what 'urban design' was, Conybeare Morrison was a pioneering practice.
The early practice flourished and after several years, in the lead up to the Australian Bicentenary, Conybeare Morrison was engaged to transform Circular Quay from what was a drab transport interchange, into a vital focus for tourists flanked by two world-famous landmarks, the Opera House and Sydney Harbour Bridge. The work won a national award in Civic Design and Landscape Excellence (AILA National Award in Landscape Architecture 1988) heralded as being "highly effective in unifying the surrounds of Sydney Cove [forging] a connection with the eastern side of Sydney Cove to link with the Opera House [and using] a continuity of materials with a good mix of broad scale space, and more intimate spaces".
Conybeare Morrison have over the years reimagined many other significant public spaces in Sydney including Darling Walk, Darling Harbour (1982); Luna Park (1987); Macquarie Street Boulevarde (1988), George Street, The Rocks (1992); Macquarie Street, Liverpool (1994); Market Street, Sydney (1997); Springfield Precinct in Kings Cross (2003); Campbell Parade, Bondi Beach (2008); Rose Bay Promenade (2008); Glebe Point Road (2009).
In preparation for the Sydney 2000 Olympics, Conybeare Morrison was part of a consortium engaged for the major urban redevelopment of the Sydney Showground together with Cox Group and Peddle Thorp Architects. The group was responsible for the masterplan of the new Showgrounds at Homebush Bay, together with design of the Showground Arena and a series of exhibition pavilions.
In the education sector Conybeare Morrison developed a solid reputation with the 1990 masterplan for Sydney University – still guiding work today, along with campus designs for the University of NSW, UTS, Macquarie University and the University of Western Sydney, and also several offshore university campuses including The University of Science and Technology, China (USTC) and Botswana International University of Science and Technology (BIUST). The practice has developed an international reputation with work extending to the UK, India and Asia including the masterplanning and architectural design of entire satellite cities in Vietnam and China.
In more recent years the practice has grown to include infrastructure design of major motorways such as the Westlink M7 & Airport Motorway and transport systems such as the Liverpool to Parramatta Transitway, the Innerwest Busway, light rail and metro studies. While continuing to devise masterplans for the long-term development and conservation of Sydney's unique natural environments and heritage with projects such as Bobbin Head and Apple Tree Bay, Goat Island, Cockatoo Island and the Royal Botanic Gardens Conybeare Morrison also promotes design excellence, access and sustainability in new mixed use and residential developments like 150 Epping Road and urban precincts including Rozelle Bay UAP and Wentworth Point UAP.
Still guided by the common vision of our Directors Darrel Conybeare and Bill Morrison, our team remains dedicated to innovation and design excellence as we work to create memorable places for people to live in and enjoy.